Ask Us About Our FALL ACTIVITES!
Activities For People And Their Pets
WELCOME to our ENRICHMENT CENTER!
Our Canine Social Club offers an innovative, comprehensive approach to meeting dogs' physical and mental needs. Our unique concepts give you and your dog the best possible social experience in all of Lee county. We all love doing things with our pets therefore we have created some fun opportunities here at Bubbles and Biscuits! We want the Canine Social Club and Enrichment Center to be a resource for the community and their Pups. Each month we will change our topics, so there is always a new theme! We know you will love our UNIQUE offers!
Enrichment Workshops—Wednesdays 4:30
WORKSHOPS are designed for one ACTIVITY that we spend with you and your dog to give you a better understanding of how to continue working on this particular goal. People AND their dogs are invited to participate. These WORKSHOPS are created so you and your pup can learn fun activities together and meet new friends.  People AND their dogs are invited to participate.
Prices $65  Pay as you go or $200 for a pack of 4.
Paws In Paint! 
Come create a Painting with you Pup and have a Souvenir to take home!
Game Day With Your Pup! 
We will be playing different games with people and their dogs.
Pup Fitness! 
Come learn how to exercise your dog in a new creative way! Using our Treadmill, Fit-Paws and Balance Balls learn skills you can even take home! 
Brain Games!
Unique Puzzles filled with snacks to challenge your pups mind and body. 
WE CAN HOST YOUR PUP'S BIRTHDAY PARTY
WE invite all their new friends to this wonderful fun filled event! Our trainers come up with the activites they can all share in while a professional photographer takes  portraits in our custom photo area! Co-Op Games, Agility Challenges, Brain Puzzles and MORE!  Basic Packge – $250.00! Customizing/Upgrades Available!
YOU CAN HOST YOUR OWN EVENT HERE!
Pet Professionals! You can host your Workshop or Seminar in our SHOP! 
Dog Rescue Groups/Services! Host Your Adoption Event HERE! 
Call for details (239) 495-9663
PROFESSIONAL PHOTOS IN HOUSE!!!
We are SO EXCITED! One of our staff is a Professional Pet Photographer who is happy to create a seasonal set to take some amazing portraits of your Pup, your Pup and friends, even YOU and your PUP!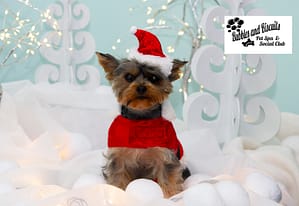 This is truly UNIQUE! We offer MONTHLY portrait sessions at our Pup Parties, or you can go ahead and BOOK YOUR OWN CUSTOM SESSION! (239) 495-9663 (woof)
OUR MONTHLY PUP PARTIES ARE 
BECOMING SO POPULAR WE ARE EXPANDING!
MEMBERS PUP PARTY
This Party is for our CLIENTS that are involved in our MONTHLY SUBSCRIPTION programs, and have passed our "PUP OFF LEASH" evaluation. These PARTIES include: GAMES, PET PORTRAITS, OFF LEASH PLAY and our SURPRISE monthly themed activity! This event is designed for owners to participate WITH their PETS, SOCIALIZE with other pet PARENTS while getting to know their pups PALS! Also includes SNACKS for PETS and PEEPS!
$45
PETS AND PEOPLE SOCIAL
This Party is for ANYONE with a FRIENDLY PET! Pre-Registration and Payment required. Similar to our members party, this event includes SNACKS for PETS and PEEPS, GAMES and a MONTHLY THEMED ACTIVITY. THIS event gives PARTY GUESTS the opportunity to get to know US while making NEW FRIENDS! Can include a PROFESSIONAL PHOTO SHOOT for a PARTY DISCOUNT RATE!
*Pre-Registration and Payment required.
$65
BOTH THESE EVENTS GIVE OUR GUESTS THEV OPORTUNITY TO MEET SOME OF OUR COMMUNITY PARTNERS! These are people that offer punique PRODUCTS and SERVICES in OUR COMMUNITY!
WELCOME FALL Activity Calendar
INTRODUCING:
SENSITIVE THURSDAYS
For our DOGS who require a little extra TLC and or QUIET TIME to enjoy our TRAINING and ENRICHMENT ACTIVITIES.
CONTINUED ACTIVITES:
Pups Pik Nik
Tuesdays and Thursdays
11:30am til 1:30pm
Happy Holidays
Pup Party with Photo Shoot!
Saturday, December 16th, Members Party: 10am til 11:30.
Pets and People Social: 12 til 1pm.
*********
ADVANCED REGISTRATION REQUIRED FOR ALL ENRICHMENT ACTIVITIES PLEASE and THANK YOU!